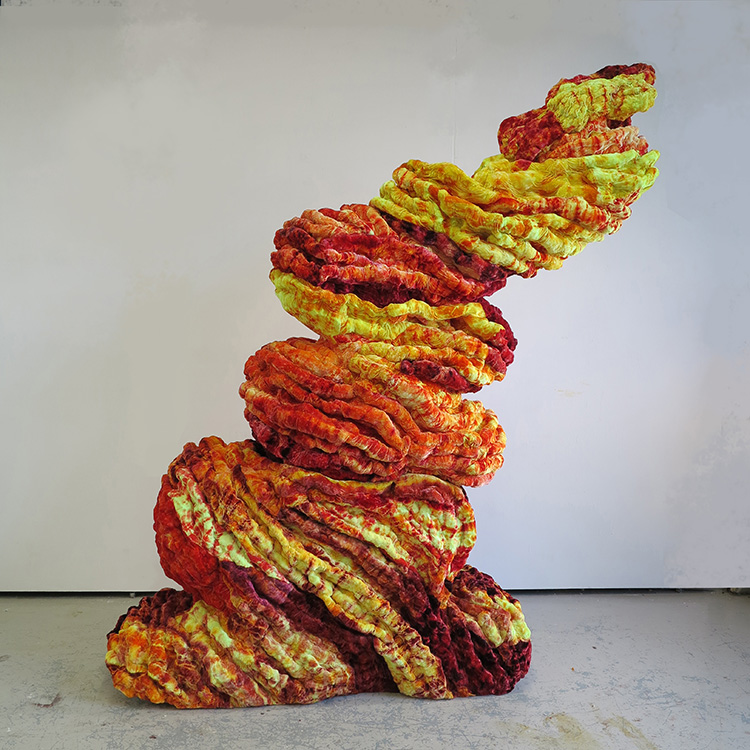 Twilight 4 2021,
silk velvet, pu foam, wood,
212 x 180x 65 cm
Twilight 4 ontstond als een tekening in de ruimte door steeds weer nieuwe lagen aan te brengen die alsmaar verder reiken. Ik heb het oppervlak bedekt met fluweel dat ik heb geverfd met textielverf in de tie dye techniek. Als reactie op het eerdere gifgroene werk Swamp uit 2020, koos ik voor schakeringen tussen felrood en geel, wat associaties opriep met de kleuren van een zonsondergang of zonsopgang.
Twilight 4 was created as a drawing in space by constantly applying new layers that reach ever further. I dyed the all-covering velvet with fabric dye in the tie dye technique. In response to the earlier bright green work Swamp from 2020, I chose shades between bright red and yellow, which evoked associations with the colors at sunset or sunrise.
back