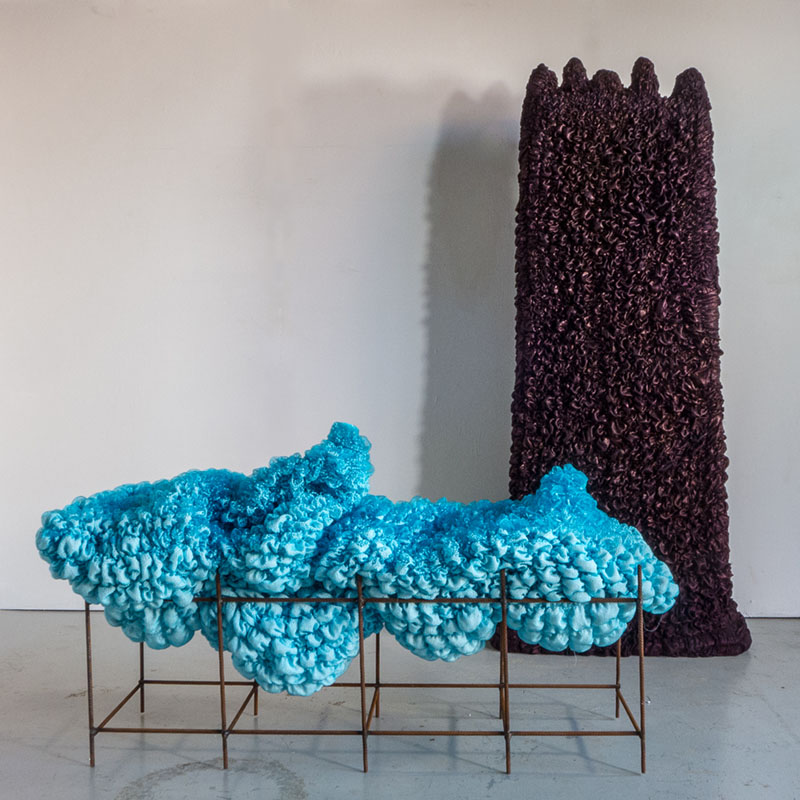 Landscape in 2 Parts, 2018, reinforcement bars, organza, indigo textile, polystyrene beads, wood, ± 300 x 150 x 30 cm
Landscape in 2 Parts, 2018
Horizontaal en vertikaal
Binnenkant en buitenkant
Aarde lucht water
Kun je zijn wat je ziet?
Kun je een landschap begrijpen?

Een constructie van betonijzer draagt een vormeloze zak van transparant textiel, gevuld met polystyreen bolletjes. Het textiel is slechts omhulsel. Het vulmiddel blijft als een vormeloze massa zichtbaar. Horizontaal, vloeiend als water.
Een bergachtig object van textiel van de indigo gewaden van Touareg nomaden. Vertikaal opgericht als een menselijke gestalte.
Landscape in two Parts, 2018

Horizontal and vertical
Inside and outside
Earth, air, water
Can you be what you see?
Can you understand a landscape? A construction of reinforcing bars is carrying a shapeless bag of transparent textile filled with polystyrene beads. The textile is just an envelope. The filling stays visible as a shapeless mass. Horizontal, flowing like water.
A mountainous art object made of the textile from indigo garments of Tuareg nomads, raised vertically, like a human shape.
back