Gloss and Bottom, 2012-2017
Gloss, een hangende zuil van protserig rood fluweel, kreeg een plooi structuur d.m.v. gouden plastic haarklemmen. Bottom, een geplooide cirkel van hetzelfde fluweel smeerde ik in met kleislib.
Het werk Gloss and Bottom ontstond tijdens een artist in residence in München en werd tentoongesteld in de expositie 'Raumlabor – skulpturale anordnungen' in Kunsthalle whiteBOX, gevestigd in een voormalige aardappelmeelfabriek in München. De geschiedenis van deze ruimte gebruikte ik als een paradox met de cultuur van het Zuid Duitse Beieren, waar ik de overdadige, barokke paleizen van keizer Maximiliaan en Ludwig II had bezocht. Het werk kreeg opnieuw vorm in 2017 in museum Kranenburgh in Bergen tijdens de expositie 'Kunst = een veelkoppige draak' van het KCB.
Gloss and Bottom, 2012-2017
Gloss, a hanging pillar from flashy red velvet, got a smocking structure by means of golden plastic hair clips.
Bottom, a pleated circle from the same velvet, got smeared with clay. The art work Gloss and Bottom came into being during my stay as an artist in residence in München and was exhibited at the exhibition 'Raumlabor – skulpturale anordnungen' at Kunsthalle whiteBOX, situated in a former potato flour factory in München. I used the paradox of the history of this space and the culture of South German Bavaria, where I visited the excessive, baroque palaces of emperor Maximilian and Ludwig II.
In 2017, the work took shape again at museum Kranenburgh in Bergen, the Netherlands, during the KCB (Art Centre Bergen) exhibition 'Kunst = een veelkoppige draak' (Art = a many-headed dragon)
Säule mit Haarklammern
Femmie Duiven spielt mit der Atmosphäre des ehemaligen Industriebaus. Sie hängt zwischen die rauen Betonwänden eine Stoffsäule, die aus der Ferne etwas Kostbares assoziieren lässt: roter Samt, Gold. Man denkt sofort an aufwändig verarbeitete Kleide raus dem Mittelalter oder dem Barok: gesmokte Krägen und Ärmel oder wallende, in der Taille eng geschnurrte Kleider. Bei näherem Hinsehen erkannt man allerdings, die goldenen Elemente bestehen aus einfachen Kunststoffhaarklammern. Es geht hier um ein Spiel mit Materialitäten und dem Verhältnis zu ihrer Umgebung oder anders: wie die Umgebung und Material Einfluss auf die Wertigkeit von Dingen nimmt.
Astrid Mayerle / Kulturjournalistin
back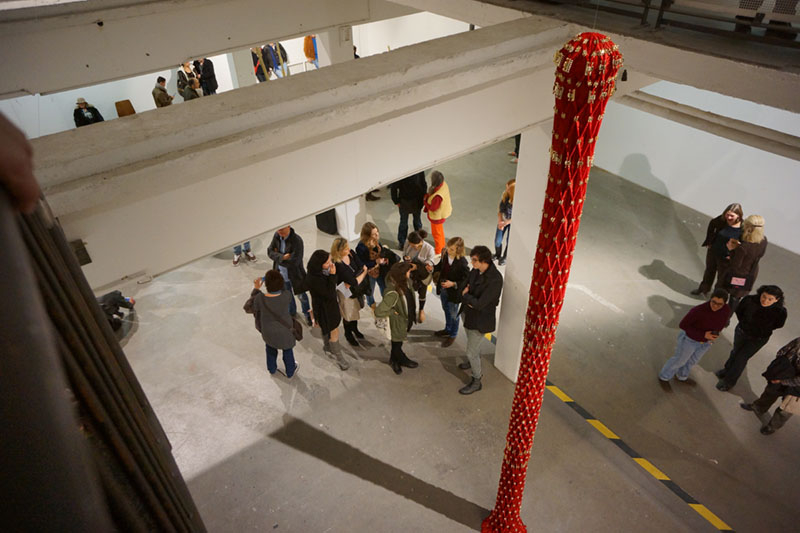 'Raumlabor - skulpturale anordnungen', Kunsthalle whiteBOX, Munich, Germany